Archives and library professionals have been taking a closer look at their descriptive practices, with an eye toward reducing and eliminating offensive, derogatory, and outdated language and enhancing access to materials that otherwise might be left undiscovered. Deemed "conscious editing" by its practitioners, these initiatives serve to "bring an active, critical awareness of bias, privilege, and power and an ethos of deliberate care to the assessment, creation, and refinement of descriptive…texts" (UNC Chapel Hill Libraries, 2021).
In archives and special collections, descriptive text takes many forms—be it finding aids and collection guides, catalogue records, or metadata for digital and digitized materials in online repositories. As such, librarians and archivists engaged in conscious editing initiatives must be mindful of assessing all potential locations in which descriptive information about collections and specific items may appear.
The USF Libraries Tampa Special Collections embarked on several conscious editing projects in 2021, each of which evaluated different aspects of the print, digital and archival collections to identify both questionable and inappropriate terminology and generate new, and more inclusive, vocabularies used to describe diverse collections. In one such instance, AAE project lead Tomaro Taylor (Director, Special Collections) reviewed Special Collections' collection management system for obsolete language used across all archival collections, regardless of collection type or content. By searching ArchivesSpace for specific words and phrases, Tomaro was able to identify needed changes to the existing descriptions of Special Collections' more than 500 archival collections. Beginning with the African American collections represented on the African American Experience in Florida portal, Tomaro examined individual collection descriptions, container lists [collection inventories], and subject headings before searching across all collections more broadly. Small changes were made to many of the African American collections maintained by Special Collections, but the most significant changes were made to the newly renamed Federal Writers' Project collection.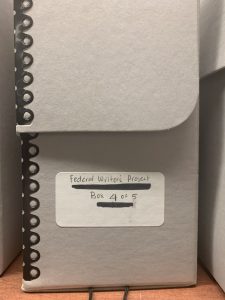 Formerly referred to as the "Florida Negro Papers," the Federal Writers' Project collection comprises photocopied materials describing the customs, experiences, religion, social life, occupations, and folklore of predominantly African American residents in Florida. The collection includes numerous interviews with formerly enslaved men and women and presents intimate portraits of their lives through interviews, biographical sketches, and essays.
While conscious editing ensured changes in our description of both the collection and the experiences documented in the collection materials, it also changed how the people represented in the collection are documented. Specifically, Special Collections now identifies each interviewed person by name.* This represents a significant change from previous collection arrangement and description, which grouped all interviews into folders without identifying interviewees by name. Now, researchers can search for specific individuals interviewed by the Federal Writers' Project about their experiences as African American citizens in the US during the period of enslavement.
Conscious editing is an effective way to assess the data used to describe and access collections. Special Collections' recent efforts in conscious editing speak to the greater objective of ensuring all researchers are welcomed into and encounter and equitable and inclusive environment, whether in person or online.
To learn more about conscious editing, visit these links:
*Interviewee names have been added to the notes field for each folder containing interviews. Eventually, individual interviews will be separated from these groupings and identified by name at the folder level.
Credit: Tomaro I. Taylor, Director, Special Collections, USF Libraries